Information
Childcare Options
Treleigh School:
Daily Breakfast Club - Monday to Friday mornings 8:00 am - 8:40 am = £1.50
After School Club - In the hive daily.
3:15 pm - 5:15pm. £3.00 per hour (Please phone the office to book your child in)
Windmill nurseries will collect children from the school and are open until 6:00 pm.
Tele: 01209 210820
Windmill Nurseries also operate a holiday club.
Are you a parent or carer who is concerned or worried about your child? Or perhaps you just want some hints and tips on parenting? MindEd for Families has online advice and information from

trusted sources and will help

you to understand and identify issues regarding your child's mental health and well-being.
Areas covered include common problems, death and loss, attachment and many more. If you would like further information please follow the link or ask Ms Middleton (SENCO)
Latest School Dinner Menu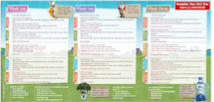 2017 Autumn Menu New Schools
Term Dates - 2016 - 2017, 2017 - 2018- Download and Print
Teacher Training Days:
04th Sept 2017
09th Feb 2018
15th June 2018
23rd - 24th July 2018