Mr Proctor's PE and Sports Blog
"Constantly striving to encourage and increase sports participation levels, ensuring that all PE lessons are fun, engaging and inclusive to all abilities"
Sports Clubs - For This Term 2018
Here at Treleigh we run many sports clubs in a variety of sports throughout the year. Take a look at the clubs that we are currently running.
Lunchtime

After School

Monday

Choir – Mrs. Collinge

12.45 p.m. – 1.15 p.m.

(Y1 & Y2)

Choir – Mrs. Bailey

12.45 p.m. – 1.15 p.m.

(Y3, Y4, Y5, Y6)

Tuesday

Tag Rugby – Mr. Hanley and Miss Philpott

12.45 – 1.15 p.m.

(Y5 & Y6)

Homework (NOT ICT) Club – Mrs. Banfield

12.45 p.m. – 1.15 p.m.

(Y3, Y4, Y5, Y6)

Infant Sports Club – Mrs. Gilbert

3.15 p.m. – 4.15 p.m.

(Y1 only for 1st half term)

(Y2 only for 2nd half term)

Cross Country Club – Mr. Hanley & Miss Philpott

3.15 p.m. – 4.15 p.m.

(Y3, Y4, Y5, Y6)

Wednesday

Recorder Club – Mrs. Wheeler & Mrs. Bailey

12.45 p.m. – 1.15 p.m.

(Y3, Y4, Y5 & Y6)

Football Club –Mr. Proctor

(1st half term only)

3.15 p.m. – 4.15 p.m.

(Y5 & Y6)

Cricket Club – Mr. Proctor and Mrs. Banfield

(2nd half term only)

3.15 p.m. – 4.15 p.m.

(Y3, Y4, Y5, Y6)

Thursday

Homework (NOT ICT) Club – Mrs. Banfield

12.45 p.m. – 1.15 p.m.

(Y3, Y4, Y5, Y6)

Football Club –Mr. Proctor

(1st half term only)

3.15 p.m. – 4.15 p.m.

(Y3 & Y4)

Netball Club – Miss Daniels and Ms Middleton

3.15 p.m. – 4.15 p.m.

(Y5 & Y6)

Friday

Energy Club

– Mr. Proctor and Sports Leaders

12.45 p.m. – 1.15 p.m.

(Y1 & Y2 – children selected on weekly basis)
Treleigh 1 – 0 Pennoweth
Treleigh's opening league match resulted in 3 points following a close encounter against Pennoweth. With both sides playing some outstanding football, the home side took the league mid-way through the first half following a deflected corner from Levi. Despite Pennoweth resulting to shooting at range, the pace of Jack T and great positional awareness and composure on the ball by Alfie ensured that Jack A in goal was largely untroubled. Will H, Joseph and Daniel all ran at the Pennoweth defence with confidence, putting in some good crosses for William S and Tylor up front but it was Levi who really controlled the game from the central midfield position.
Treleigh's next game is a home tie in the Miller Shield against Heomoor School from Penzance which we will report on soon. Well done to all involved!
Squad: Jack A, Alfie L (capt.), Jack T, Daniel C, Joseph G, Will H, Levi H, Tylor S, William S.
Mr. P's M.O.M: Levi Hilling: Some superb touches, dribbling and decision making.
Redruth Cluster Swimming Gala
Our KS2 Swim Team performed extremely well this week at the Redruth Cluster Swimming Gala. The event was attended by Trewirgie, St.Day and Pennoweth and, although we are awaiting the team result, here are the individual positions:
Y5 Girls: Front Crawl - Jessica C (1st), Backstroke - Niamh F (3rd), Breaststroke - Hannah C (4th), Butterfly - Arwin (2nd)
Y6 Girls: Front Crawl - Ellie M (2nd), Backstroke - Jennifer C (2nd), Breaststroke - Mali W (2nd), Butterfly - Hannah K (2nd)
Y6 Boys: Front Crawl - Ben M (3rd), Backstroke - Hayden M (1st), Breaststroke - Jack T (2nd).
In the fun team races, Treleigh finished 2nd in all events - the surf relay, triple woggle challenge and volleyball push.
All of the children were impeccably behaved and supportive of one another but a special mention must go to Jack A for filling in at the last minute and being a gentlemen; helping the younger children out of the water without being asked! I would also like to thank the parents for their support and help with transport - it was very much appreciated.
Fantastic Gymnastics!
A huge congratulations goes to the Y6 gymnastics team consisting of Hannah K, Ophelia O, Ellie M, Mali W, Ethan A and Daniel G. All of the children were amazing, showing great strength, flexibility and control. Although we are awaiting the individual scores, it has been confirmed that they came 1st place overall against some strong competition against Pennoweth and Trewirgie. They will now go on to represent Redruth at the area finals at Penryn in the New Year. Well done Team Treleigh!
British Judo Championships
Well done to Sophie who has earned herself a Bronze medal in the girls under 32kgs British Judo Championships.
Now ranked 3rd in Great Britain and has been asked to train with team GB.
Primary School of the Year winners!
Primary School of the Year winners
We are delighted to announce that Treleigh School has been award the 'CAPH Time2Move Cornwall Primary School of the Year' award in recognition of our efforts towards promoting and delivering high levels of PE and Sport. During a prestigious awards ceremony at The Headland Hotel in Newquay, Treleigh were up against stiff competition alongside Trevithick Learning Academy, Gwinear School and Constantine School in their category.
It was decided that Treleigh's diverse range of clubs, including Golf, Kickboxing, Archery, Gymnastics and Streetsurfing, as well as the more 'traditional' sports, and how these provide opportunities to develop the children's emotional resilience through the Thrive Approach, secured the award on the night. With 90% of children in KS2 and over 75% in KS1 attending extra-curricular sports clubs, we will continue to strive to raise this figure further still by providing a bespoke range of opportunities for all.
We would like to thank the Cornwall Association of Primary Heads (CAPH) and The Cornwall Sports Partnership for organising such a great event.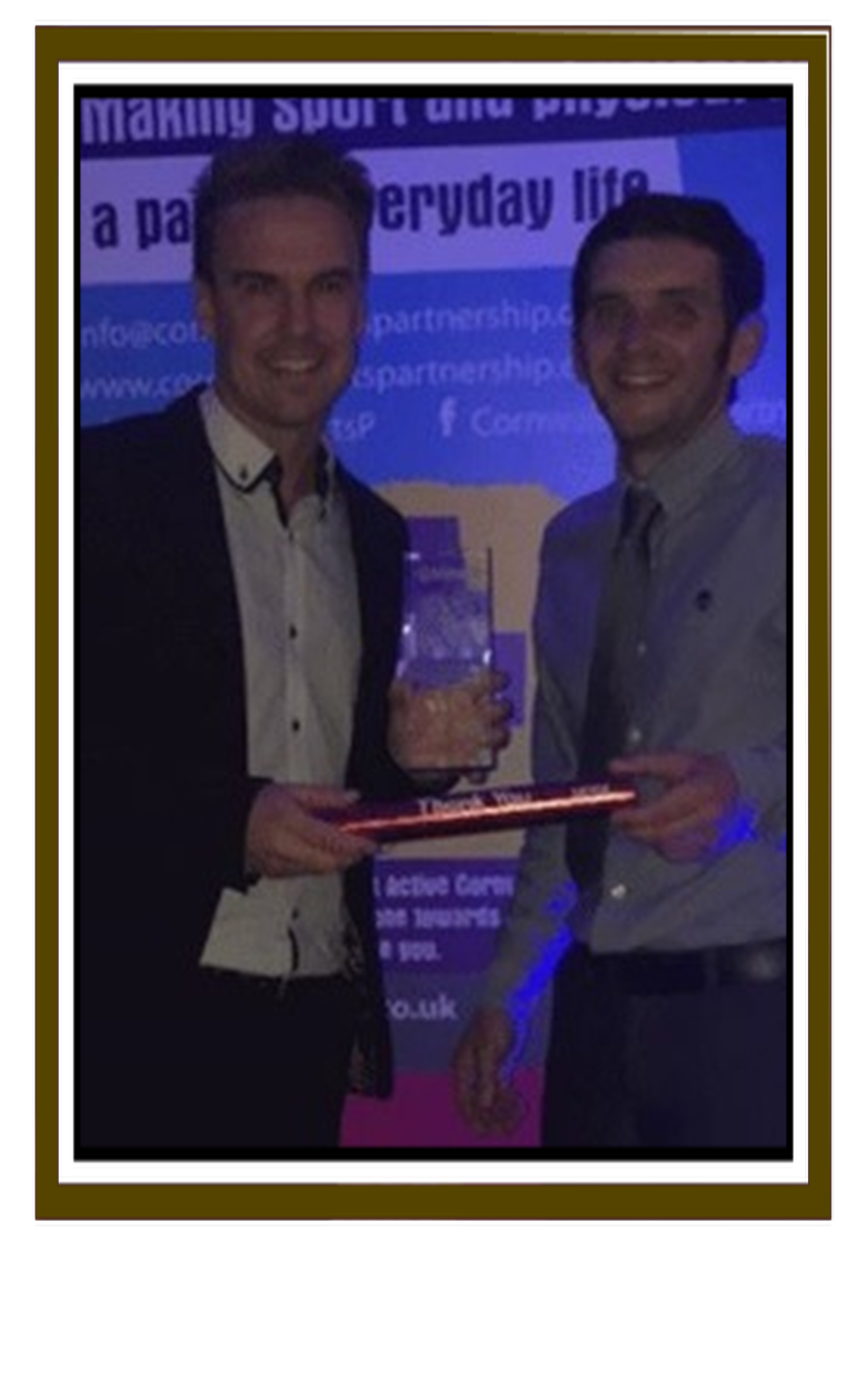 Inter-House Basketball Competition
Over 6 children from years 4-6 took part in our Inter-House Basketball tournament this half-term. With some fantastic, dribbling, intercepting and tactical awareness on show, it was eventually Godrevy (Greens) who were victorious, with a maximum 9 points. Every game was finished with handshakes and a smile despite the competitive nature! Here were the results:
Portreath (Reds) 2 – 1 Porthtown (Blues)
Godrevy (Greens) 7 – 0 Gwithian (Yellows)
Portreath (Reds) 5 -7 Gwithian (Yellows)
Godrevy (Greens) 7 – 2 Porthtown (Blues)
Portreath (Reds) 0 - 3 Godrevy (Greens)
Porthtown (Blues) 3 – 2 Gwithian (Yellows)
| | | | |
| --- | --- | --- | --- |
| Team | Points for | Points against | Points |
| Godrevy | 17 | 2 | 9 |
| Gwithian | 9 | 15 | 5 |
| Portreath | 7 | 11 | 4 |
| Porthtowan | 6 | 11 | 4 |
Year 3/4 Football tournament
A squad of 10 pupils travelled across to Redruth School recently to take part in the first ever Y3/4 football tournament. For several of the children it was their first taste of competitive sport out of school and, with this in mind, performed extremely well.
In each of their three games they battled until the final whistle, improving as the afternoon progressed and were unlucky not to score several more goals, particularly in their first game. Their attitude and sportsmanship was faultless. Here are the results:
Treleigh 0 – 2 Pennoweth A
Treleigh 3 – 0 Pennoweth B
(Romeo H x3)
Treleigh 0 – 4 Trewirgie
Squad: Joseph G (Capt.), Jessica C, Arwin F, Liam R, Kacey S, Logan M, Romeo H, Reuben W, Will T, Crawford J
Mr P's Player of the tournament: Kacey S – Put in some outstanding tackles in defence against much bigger opposition.
Weston-super-Mare Judo Competition
Team Treleigh ( Arwen and Sophie)
Bronze for Arwen u28 kg years 4 & 5
Bronze for Sophie u32kg years 4 & 5
Both Arwen and Sophie fought their hearts out at the Judo Competition in Weston-super-Mare.
The two girls are now ranked 4th in the South West Region.
They did an amazing job representing Treleigh School.
Redruth Y7s 5 – Treleigh 1
Treleigh put up a brave fight against Redruth School's Y7s in a match that had to be played indoors as it fell victim to poor weather conditions. The girls were fearless in putting their older opposition under pressure from the offset and mounted several attacks resulting in shots at goal. However, the strength and power of Redruth's shots made a big difference, coupled with some high quality finishing. Treleigh kept their shape well, eventually resulting in a good finish by Sienna I from close range following some good build up play by Mali and Kiya in midfield. Ellie is continuing to show huge potential with great composure on the ball and she was well protected by a combination of Mischa, Jennifer and Abi in defence. Arwin in goal showed great agility and Jessica continues to grow in confidence with much improved tackling. Well done girls!
Squad: Jennifer C, Arwin F, Mischa B, Abi R, Kiya W, Ellie M (capt.), Mali W, Sienna I, Jessica C
Player of the match: Mischa B – Kept her position well and put great pressure on to protect the goalkeeper with brave tackling.
Judo Competition
This week, ten children from KS2 represented Treleigh in a Judo competition at Mullion School. The competition was very strong but, thanks to the dedication and training provided by Rowann Ford and the team at Redruth Judo Club, they all managed to secure a medal with the following results: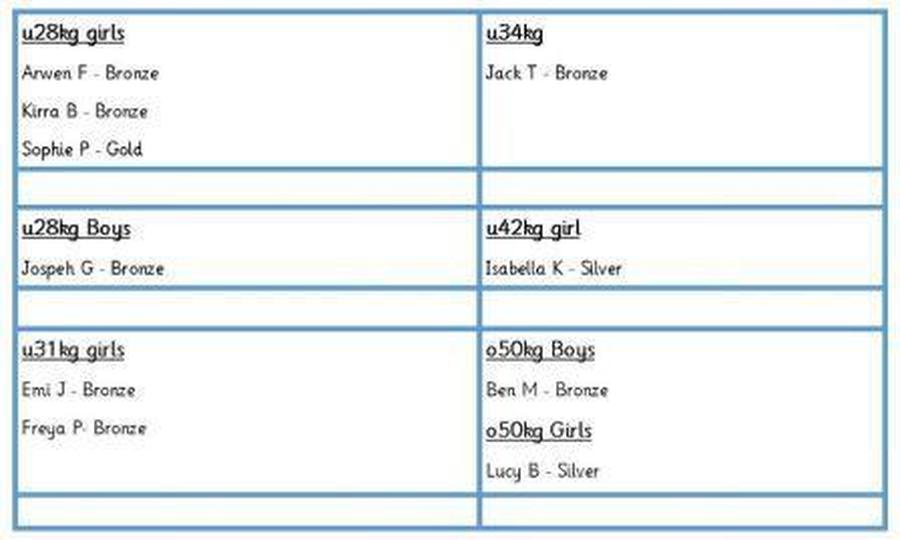 The children showed great strength, determination and sportsmanship and their behaviour was outstanding, as always. Thank you to all of the parents and Mrs. Isaacs for transporting them and for your amazing support.
Girls Football Tournament
The girls football team, all from years 4 and 5, did an outstanding job at Trevithick Learning Academy this week where they played 6 games; undefeated throughout the morning and not conceding a single goal. After three frustrating goalless draws, the girls found their 'shooting boots' and went on to score 10 goals in the remaining three matches. Playing against many children from year 6, the future is looking very bright for this team. Congratulations on coming runners-up girls! Here are the results:
Treleigh 0 – 0 Trevithick A
Treleigh 0 v 0 Penponds
Treleigh 0 v 0 Weeth
Treleigh 2 (Kiya W, Ellie M) v 0 Trevithick B
Treleigh 4 (Sienna I x3, Ellie M) v 0 Gwinear A
Treleigh 4 (Kiya W x3, Ellie M) v 0 Gwinear B
Squad: Kiya W, Jennifer C, Ellie M, Sienna I, Mali W, Mischa B, Jessica C, Abi R, Madison G
Mr P's Player of the tournament: Kiya W – Putting the opposition under great pressure, scoring four goals and not letting any in when in goal (a very difficult decision as it could have been many!)
Cornish Pirates Tag Rugby Festival
Here are some photo's of our pupils who took part in the Cornish Pirates Tag Rugby Festival. The children played 4 games, winning 3 and drawing 1.
Well done to them all for showing great competitive spirit.
Cricket Tournament
Well done to the Cricket team this week who competed in the tournament at Camborne Cricket Club. In what was for many their first taste of competitive cricket, all three games played ended with tight margins, losing the first two against Truro Prep. A and Portreath before beating Wendron in their final match. The bowling and fielding was fantastic from the offset and the batting improved as the afternoon progressed. Once again, the children's attitude in all of the games was outstanding and they displayed great sportsmanship.
Squad: Callum M (Capt.), Sam F, Finn R, Harry R, Katie P, Lucy B, Tegan M, Jack T, Dylan T, Levi H.
Four children attended Trevithick School recently to compete in the Trevictus Games. They took part in a range of running, throwing and jumping events as well as many other fun activities. They had a go at Zorbing, met the Cornwall School Games mascot and played on the bouncy castle. Their behaviour and sportsmanship was outstanding.
Well done Matthew, Poppy, Millie and Cara - you did Treleigh proud!
Year 3/4 Quadkids Athletics Event
Congratulations to our year 3/4 Athletics team who represented the school at Carn Brea. Each pupil took part in the 50m sprint, 400m run, Standing Long Jump and Vortex throw. Although we are awaiting the results, we know that they did a great job. Well done to Daniel, Crawford, Charlie J, Tylor, Jessica, Arwin, Alisha and Bethany.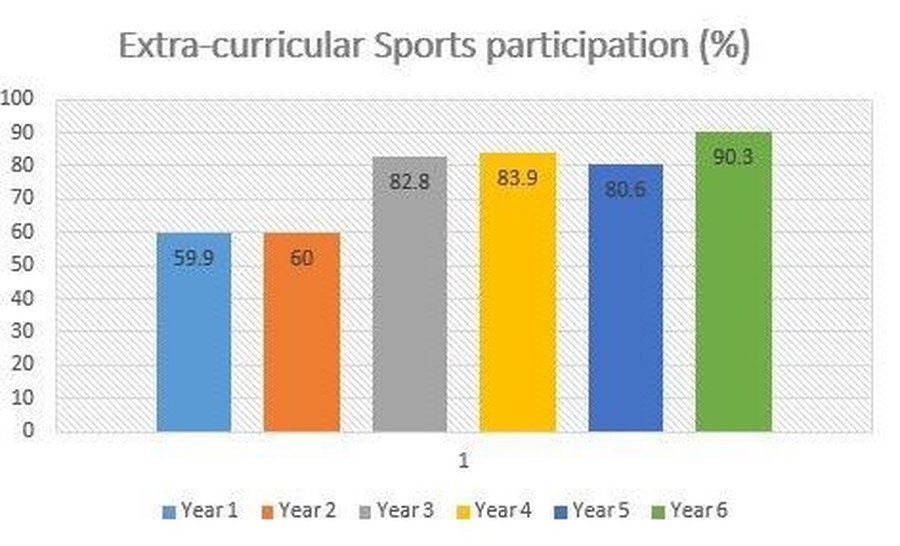 Stithians 0 -1 Treleigh
Treleigh bounced back from a disappointing run of results at their recent tournament with an outstanding display at Stithians School last week. From start to finish, they showed much more focus and discipline in their positions as they broke down the home defence midway through the second half with a well taken goal by Kane following some patient build-up play. As this was their last game of the season, they can look back over a 'mixed bag' of results but hold their heads high with the way they finished the seasons. Well done lads!
Squad: Callum M, Kane G, Alfie L, Kenzie G, Fletcher A (capt.), William H, Sam F, Harry R, Harry L, Bradley C
Mr P's MOTM: Kane G – Scored the winning goals and tracked back well to support the defence.
Treleigh 0 – 3 Stithians (Girls match)
In what was for many their first ever time of pulling on a Treleigh shirt, the girls should feel extremely proud of their efforts in this match. With no year 6's present, they were fighting an uphill battle against the difference in strength and speed of the opposition. However, apart from a 'funny 5 minutes', they were the better side, especially in the second half where they narrowly missed a number of good chances. We are extremely excited about next year's prospects as they showed great potential and talent! Well done girls!
Squad: K Williams, M Barber, E Morgan, Sienna I (capt.), Jennifer C, Jessica C, Mali W, Madison G
Mr P's L(Lady!)OTM: Ellie M – Fantastic work-rate, ball control and tackling. A real star for the future here!
KS2 Inter-house Handball competition
The recent KS2 handball competition was a great success with nearly 70 children involved. Godrevy were the eventual winners finishing their games with a 100% winning record after a thrilling 4-3 final match. Portreath finished in 2nd, followed by Gwithian in 3rd and Porthowan in 4th. There were some outstanding skills and shows of sportsmanship on display. Here are the results:
Portreath 12 v 6 Porthtowan
Gwithian 4 v Godrevy 11
Portreath 10 v Gwithian 1
Godrevy 8 v Porthtowan 5
Portreath 3 v Godrevy 4
Porthowan 2 v 7 Gwithian
Pennoweth 0 – 2 Treleigh
Congratulations to the year 5 and 6 players who played in the match last week against Pennoweth. For many it was the first time that they have represented the school and they should all feel very proud of their efforts. Captain, Finn, led by example by making some outstanding covering tackles protecting Jacob who looked very comfortable in goal. He was supported by Ben and Hayden at different times, each of whom battled well to ensure that they kept a clean sheet. The two Ethans made some great runs and crosses from wide positions allowing for Jack T to cooly finish from 6 yards out following Finns 'Beckhamesque' effort from his own half! With the trio of Reubyn, Harrison and Matthew battling until the end, it wasn't long until the celebrations were underway!
Squad: Jacob J, Hayden M, Finn R (capt.), Ben M, Reubyn J, Harrison F, Jack T, Matthew L, Ethan H, Ethan A
Mr P's M.O.M: Finn R. Leading by example with some strong tackling and that amazing goal!
******Scoreline apology:******
Sorry to the players from the St.Day game. The scoreline should have read St. Day 0-2 Treleigh in last weeks Treleigh News.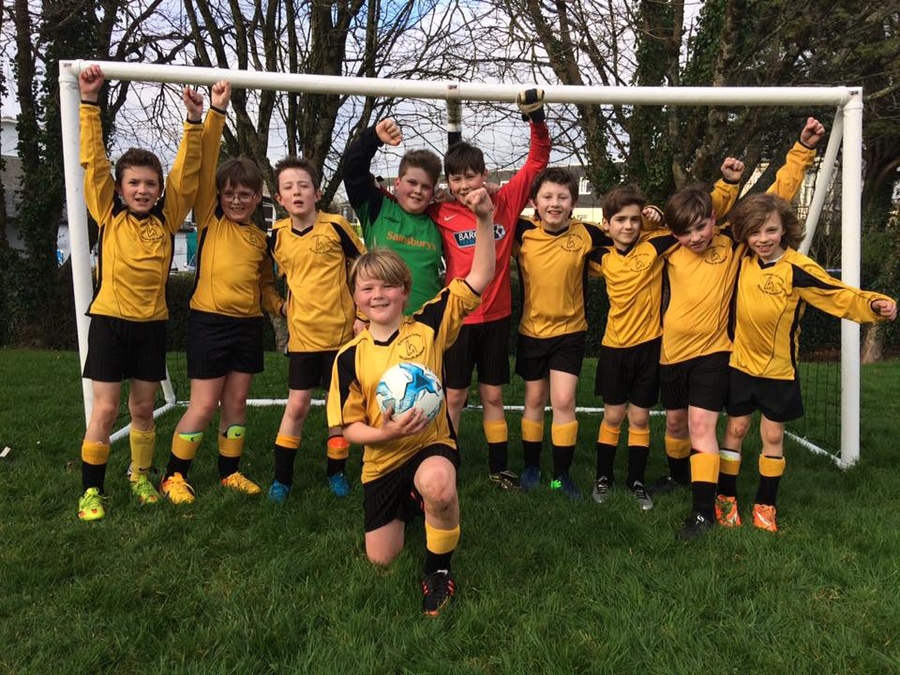 St Day Football Report
St. Day 0 – 2 Treleigh
Sickness to Kane and Kenzie meant that Treleigh went into this encounter with a depleted team last week. However, they ended the season on a high with a tricky 2-0 victory over St. Day. After sustained pressure in the first half, the deadlock was finally broken by Harry R, slotting home from close range after some good work from the midfield trio of William, Sam and Fletcher. Going into half-time with a narrow 1-0 lead, St. Day started to increase the pressure but the defensive partnership of Alfie and Bradley stood firm to the test with some great saves by Callum in goal. The two Harrys combined well midway through the second half to kill the game off, allowing Fletcher to score from a fantastic long range effort.
Good luck to the lads next week who make the short trip to Redruth School for the area tournament.
Squad: Callum M, Alfie L, Bradley C, Sam F, William H, Fletcher A, Harry R, Harry L
Mr P's M.O.M: Callum – Some fantastic saves to ensure that he helped his team to earn the victory.
Gymnastics
There were some amazing counter balance and counter tensions on display at Gymnastics Club tonight...!
It has been a busy few weeks on the PE and Sport front
It has been a busy few weeks on the PE and Sport front with record numbers of children representing the school in fixtures and attending extra-curricular clubs. Here are a few photos to give you a taste of what has been happening recently...
Year 3/4 Football V Trewirgie
British Schools Championships
Treleigh School team did very well at the British Judo School Regional Competition. It was the toughest competition yet that members have taken part in. Standards were really high but all members held their own. An amazing day for them and the club. 19 club members took part and 15 British School Medals were won.​
Sophie is now ranked 7th in the South West Region, fighting in a Weight ​group above,​as that was lowest weight group for Year 4&5 girls ​(​u32kg​)​.
Ex​-​pupils
Tecca Ford - School Champion gold -52kg Years 6&7
Jago Ford 5th Years 10-13
Fantastic Gymnastics!
Treleigh put in a high-quality, polished performance at the gymnastics tournament last week at Redruth School, finishing 2nd overall. The girls from year 5 and 6 had to perform two routines to the judges and a vault where they were graded in a number of areas. All of the squad performed superbly and we are delighted to announce that Sienna B has qualified to represent Redruth in the area finals at Penryn with the club gymnasts and Mali W and Ashleigh B have qualified in the school competition. We would like to wish them the very best of luck!
Squad: Mali W, Ophelia O, Sienna B, Ellie M, Hannah K, Kerenza D, Lois A, Ashleigh B
Treleigh 0 – 1 Pennoweth
Following Treleigh's narrow 1-0 defeat to Lanner before Christmas, they had to suffer more frustration at home to Pennoweth in the league. After long spells of pressure and some excellent ball retention, a break away goal was scored by the visitors after Sam F. had hit the post at the other end. Despite further attempts at goal, the Pennoweth defence remained strong until the final whistle. Both teams played the game in the right way – competitive yet showing great sportsmanship throughout. Our next game is home to Trewirgie next week.
Squad: Callum M, Kane G, Kenzie G, Alfie L, William H, Sam F, Fletcher A (capt.), Bradley C, Harry L.
Mr P's M.O.M: Sam F – some strong tackling and made some key passes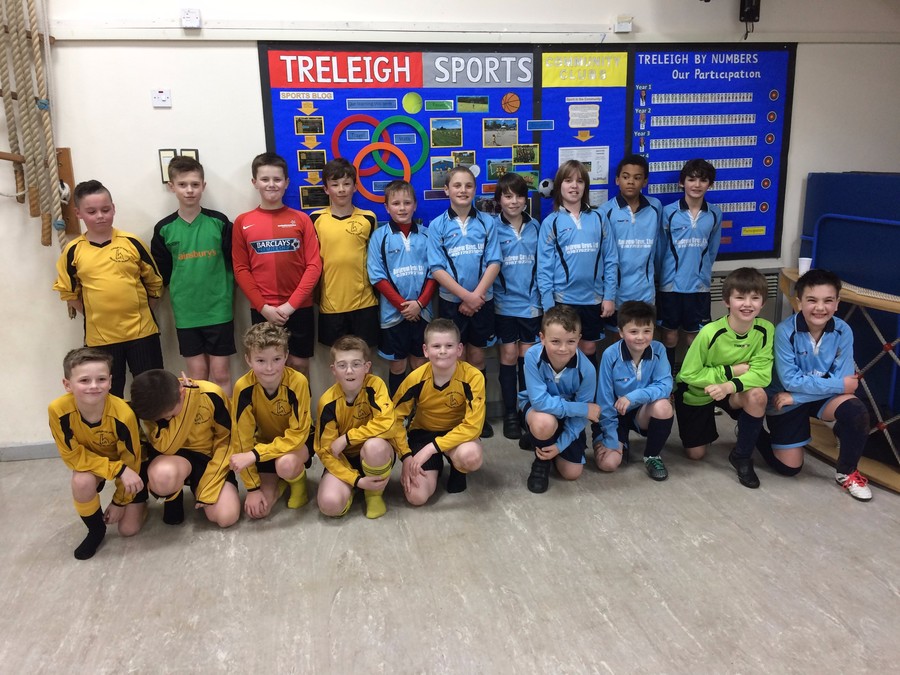 Year 1-Testing their Limits
The children have been producing some amazing sequences in gymnastics this term. They have learnt about the importance of including elements of travel, static and rotation to add variety and show control.
Swimming Success
Congratulations to the Year 5 and 6 swimming team who took part in the gala this week. Up against four other schools, they raced individually in the 25M Front Crawl, Backstroke, Breaststroke and Butterfly showing great stroke technique, fitness and determination before finishing with a Freestyle relay. All of the children did the school proud. Here are the results:
Year 5 boys: Hayden M (Front Crawl): 4th
Year 5 girls: Mali W (Front Crawl) 3rd
Hannah K (Backstroke) 5th
Ellie M (Breaststroke) 1st
Year 6 boys: Callum Morgan (Front Crawl) 3rd
Finn Roberts (Backstroke) 2nd
Sam Finch (Breaststroke) 2nd
Jacob Jones (Butterfly) 2nd
Year 6 girls: Kerenza Dunstan (Front Crawl) 1st
Lucy Barber (Backstroke) 3rd
Katie Plowright (Breaststroke) 1st
Tegan McNeil (Butterfly) 2nd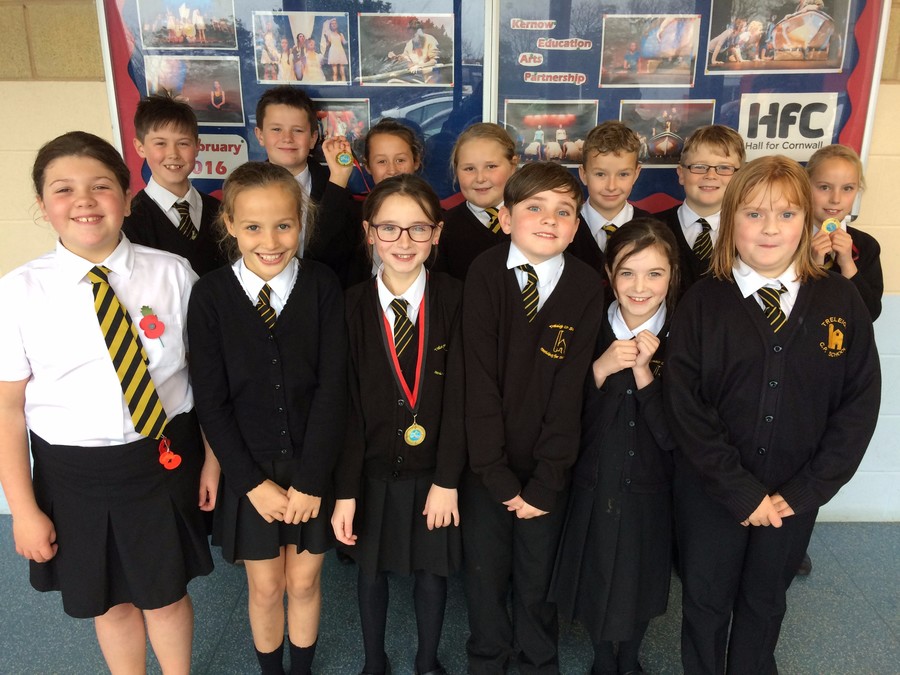 Westcoast Academy
Thank you to Rhea from Westcoast Academy for delivering today's dance session to the pupils in Y6. We never knew the boys were such Bieber fans!
Judo Competition
Congratulations to our Judo team who competed to a very high standard in the recent competition at Mullion School. They showed great determination, strength and sportsmanship, leaving with an array of medals. Here are a few photos from the event.
(Niamh ended up having to have her eye re-glued so she is missing from the photo.)
Thank you to Rowann Ford for all of her hard work in preparing the children.
We are incredibly proud of our judo team and the way that they performed in the competition at Mullion School. They showed great determination, strength, skill and sportsmanship.
Results:
Gold - Sophie and Lucy
Silver - Ben
Bronze - Niamh, Jack, Kirra
Year 5/6 Football Tournament
(Above):
Our Year 5/6 football team at the recent football tournament at Pennoweth. Great practice for the forthcoming league this year.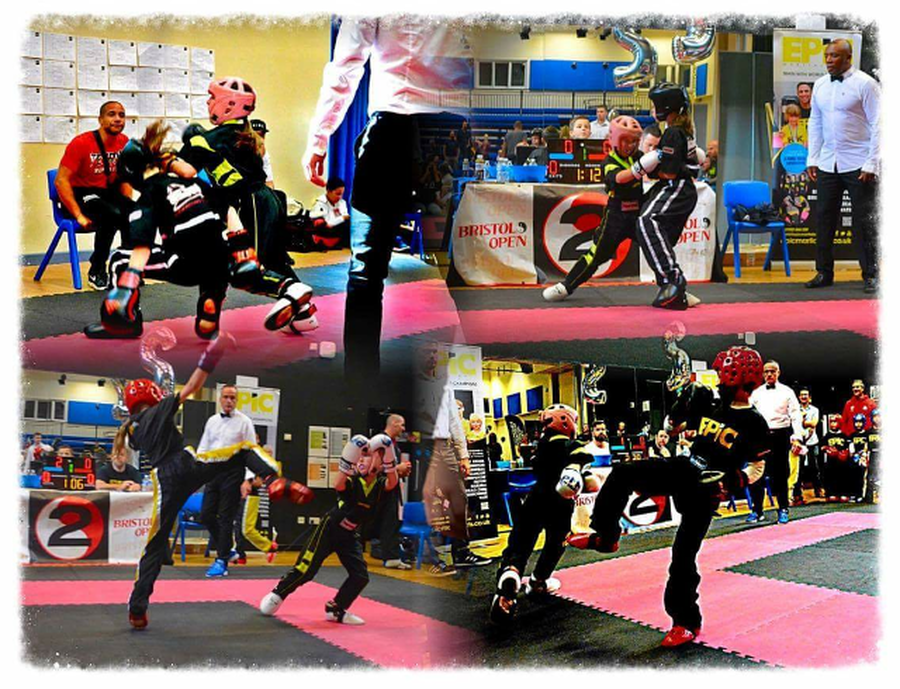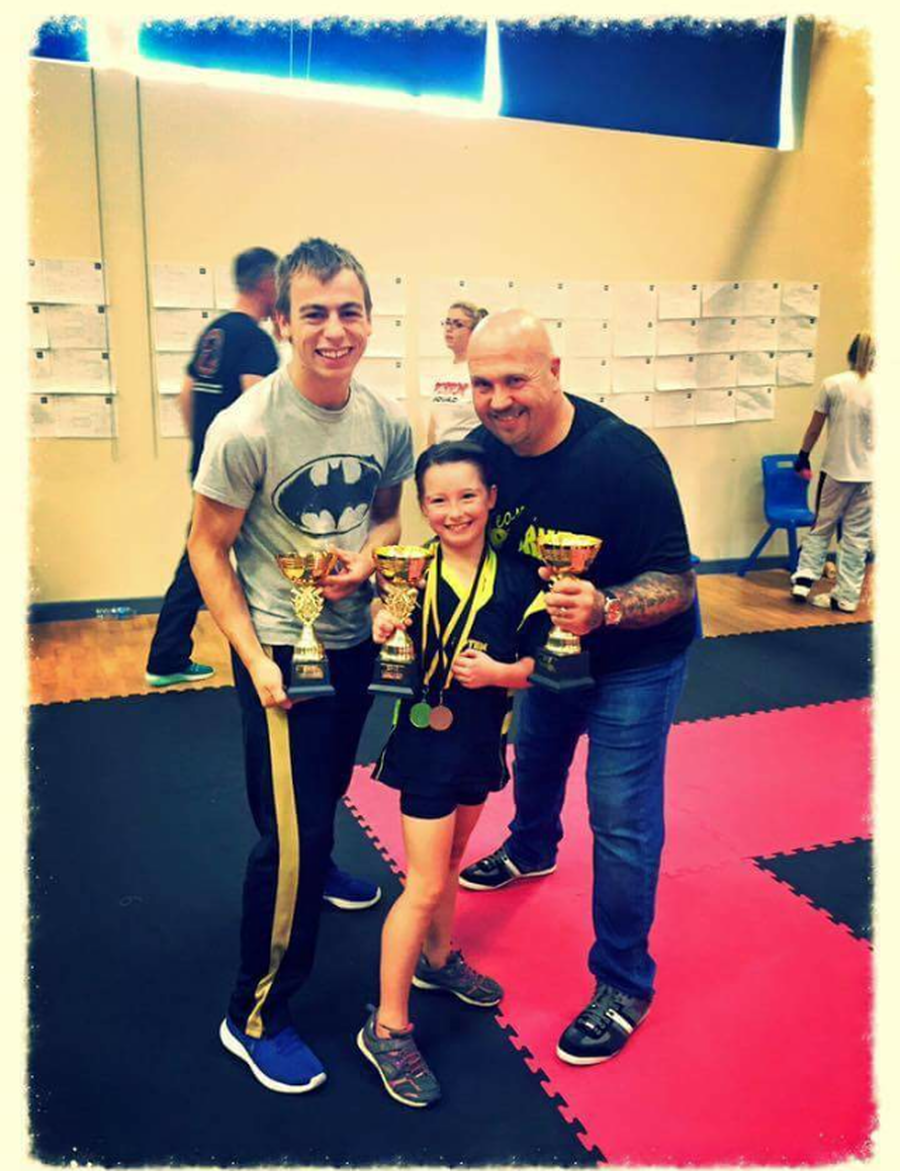 CRICKET FESTIVAL
On Friday 1st July, Treleigh and Pennoweth School took part in a local Cricket Festival at Mt. Ambrose Cricket Club (Redruth). Both schools took 2 teams along on the day with each team playing each other once in a mini tournament. After weeks of training in Cricket after school club, our Cricketers were raring to go and enjoyed every minute of competing against another school and even some of their classmates. The standard of Cricket from both schools was excellent and it didn't go unnoticed by the Cricket Coaches there on the day who were full of praise for all teams.
We would like to thank Mt. Ambrose Cricket Club and their coaches for running a well organised tournament and also Mrs. Banfield for her efforts in Cricket this year.
KICKBOXING SUCCESS!
Kiya
This year Kiya W (Year 4) has experienced huge success in her Kickboxing pursuits. She wasn't just crowned 3 x British Champion but 2 x Grand Slam Champion and 3 x Kwon Kid Champion as well, an absolutely terrific achievement!
Callum & Ellie
On Sunday 26th June, Callum M (Year 5) and Ellie M (Year 4) traveled up to Birmingham for the World Kickboxing Championships. On the day, Ellie competed in two fights whilst Callum competed in just just one. Ellie was victorious within her first fight as she won 7 to 6, however lost in her second 2 to 7. Throughout Callum's match, he took a few heavy knocks and despite putting up a good battle, he just fell short.
With the day coming to a close, it was time for the final standings. Callum secured the Silver Medal (2nd Place) while Ellie got her hands on the Bronze Medal (3rd Place).
A massive congratulations to Kiya, Callum and Ellie for their outstanding performances within international competitions, these pupils are well and truly putting Treleigh on the map. Keep up the good work guys!
SPORTS DAY 2016
On Tuesday 21st June, it was the best day of the year... SPORTS DAY! After slight doubts, the weather held out and the sun even managed to come out for the majority of the day. In the morning it was the turn of our Key Stage 2 pupils with each house competing for the title of Sports Day Champions 2016. After a fun warm up led by Rihanna Hanley, it was time for the events with the sprint races up first. It was a display of outstanding effort and performances by all our KS2 pupils competing! Once all the events had finished, the scores were counted and verified, and crowned champions of Sports Day 2016 were... the BLUE (Porthtowan) house, taking the title from the Yellow (Gwithian) house who had previously won 2 years running.
After lunch it was the turn of our Key Stage 1 pupils who were put into teams according to animals. With two new station additions to this years event in the form of the long distance run and the basketball throw, all of our children did excellently throughout as the future looks bright for Treleigh sports! A big thank you to our Year 6's and Year 5 Sports Leaders who helped during the event.
A successful day all round! A huge thank you to all of the parents/guardians who came to support on the day and to all staff for their hard work. Pictures are below!
KS2 INTER-HOUSE FOOTBALL (Mini Euros 2016)
The KS2 inter-house football tournament kicked off last week as football fever sweeps across the nation with Euro 2016 well underway. Running in a similar fashion to our dodgeball tournament before half-term, each team will play once each week until they have played every house colour (3 games in total per team). Scoring will work as follows; 3 points for a win, 2 points each for a draw and 1 point for a loss IF they manage to get half (or above) of the final score. Each house has been allocated to a team from Euro 2016 according to their house colour;
Green: Ireland
Yellow: Sweden
Red: Spain
Blue: France
Take a look at our tables below which is updated weekly with fixtures, scores, points and top goalscorer's.
YEAR 5/6
Date
Fixtures
Team
Points
Top Goalscorer's
15/06/16

Ireland 1 - 1 Sweden

France 0 - 2 Spain

France
0

Fletcher A (Ireland) - 4

Hayden T (Spain) - 3

Dean W (Sweden) - 3


20/06/16

Sweden 2 - 1 Spain

France 1 - 3 Ireland

Ireland
8 (GD +3)

Kerenza D (Ireland) - 2

Tyler E (Ireland) - 1

Sam G (Spain) - 1


27/06/16



Spain 1 - 2 Ireland

Sweden 1 - 0 France

Spain
5

Holly T (Sweden) - 1

Harry L (Ireland) - 1

18/07/16

Staff 4 - 4 Ireland

Sweden

8 (GD +2)

Alicia B (Ireland) - 1

Kane G (Ireland) - 1

&nbsp
YEAR 3/4
Date
Fixtures
Team
Points
Top Goalscorer's
16/06/16

Ireland 5-0 Sweden

France 1-1 Spain

France
2
Levi H (Ireland) - 7
Daniel C (Ireland) -3
21/06/16

Sweden 0 - 1 Spain

France 0 - 3 Ireland

Ireland

9

William H (Spain) - 2

Alfie L (Ireland) - 2

28/05/16

Spain 0 - 2 Ireland

Sweden 1 - 0 France

Spain

5

Ethan A (Sweden) - 1

Jack T (France) - 1

18/07/16


Staff 4 - 3 Ireland


Sweden

3
FOOTBALL FIXTURE vs BLACKWATER - YEAR 5/6 B TEAM & GIRLS (MATCH REPORTS)
On Thursday 16th June, we took our Year 5/6 B team and our first Year 5/6 girls side over to Blackwater Primary School for a friendly fixture. The girls who had never played alongside each other before were up first against a strong Blackwater outfit. After a steady start from both teams, it was Blackwater who managed to score the opener and had numerous chances to double their lead if it wasn't for some resilient defending from Amie A and Jasmine M, and some fantastic saves from Tegan M! Elyse B did come close to levelling things up with a fierce strike towards goal but it was well saved by the opposing goalkeeper and just before the half the home side did double their advantage.
After the break and a slight change in formation, the girls looked positive with Tecca F attempting to find an opening in the Blackwater defence. Once again some solid defending and some fine saves denied Blackwater from increasing their lead. However with only a few minutes remaining the home side found the net again and the scoreline finished 3-0. Despite the result, the girls displayed a brilliant attitude and performance, especially considering this was the first game of football some of them had played!
Team: Tegan M, Jasmine M, Amie A, Tecca F, Megan L, Elyse B, Lucy B
The boys were up next and similar to the girls, this was the first time they had line up alongside each other. They got off to a flying start when Joseph B found Hayden T on the right, who finished well with a low strike. Sam G dealt well with any efforts from Blackwater whilst Ethan H made a fantastic goal line clearance!
After the break, the boys looked to increased their lead and it didn't take long to come as Bradley C's effort was parried by the goalkeeper and Hayden T volleyed in the rebound. Joseph B, Harry K and Aidan R all came close to scoring, however it was Hayden T who completed his hat trick and sealed the win for Treleigh as he finished well at the back post. A superb win and performance from the all boys involved.
Team: Sam G, Aidan R, Ethan H, Joseph B, Harry K, Bradley C, Hayden T
A massive thank you to the parents who helped with transport and supported both teams on the day!
WE DID IT!
This week (15/06/16) we recieved some fantastic news as Treleigh achieved the Bronze Mark from the School Games Partnership! A massive thank you must go out to all of our amazing children and parents for being so enthusiastic and supportive!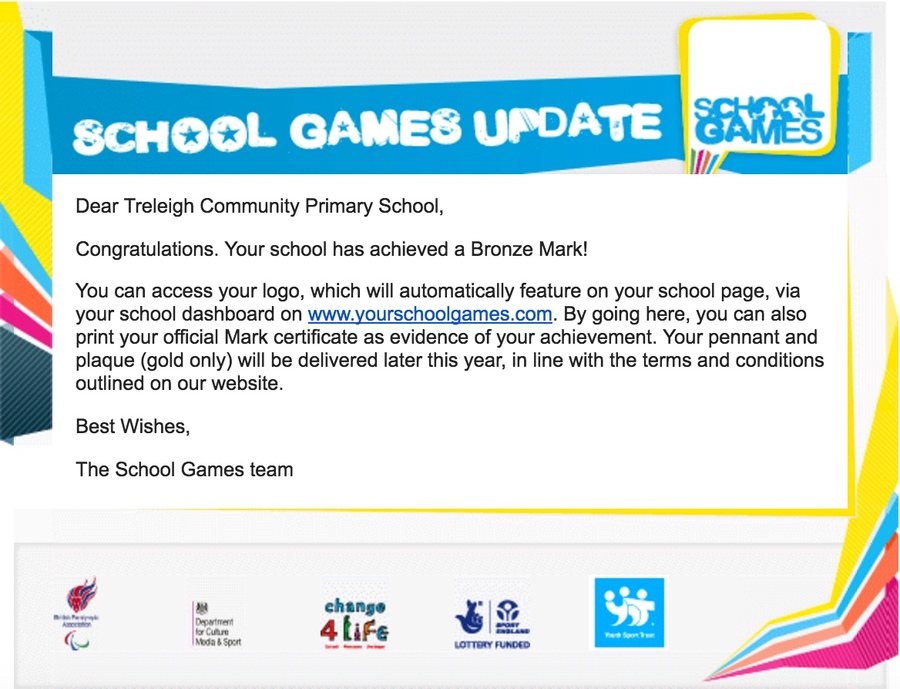 KS2 INTER-HOUSE DODGEBALL
In the first half of the summer term, our highly competitive KS2 inter-house tournament got underway with dodgeball as the chosen sport. Pupil's put their names forward to represent their house colour in either the Year 3/4 or Year 5/6 age category. Each week one round of games were played (i.e blue v red & yellow v green) in both age groups until each house had all played each other. The points were then totalled with the winning teams getting the chance to play against the staff in front of a big crowd!
Take a look at our points table for both age categories below:
| | |
| --- | --- |
| Year 5/6 | Points |
| Blue | 7 |
| Green | 2 |
| Red | 5 |
| Yellow | 9 |
| | |
| --- | --- |
| Year 3/4 | Points |
| Blue | 4 |
| Green | 9 |
| Red | 6 |
| Yellow | 2 |
Congratulations to the Yellow house from Year 5/6 and the Green house from Year 3/4 for winning all three of their fixtures, respectively. Pictures Below!
TRELEIGH SPORTS HISTORY!
This week our pupils made Treleigh sports history, and not just once!
On Wednesday we competed in our first ever mixed Hockey Tournament and on Thursday we fielded our first ever Girls Football team as we hosted Trevithick Academy in a friendly fixture. Please see reports below.
YEAR 5/6 HOCKEY TOURNAMENT
On Wednesday 20th April, Treleigh competed in their first local Hockey tournament at Pennoweth Primary School to see who would go onto represent Redruth in the Area Finals. Pennoweth made full use out of their new facilities as the tournament was held on their brand new sand-based astro pitch, which was perfect for playing Hockey!
Only Treleigh and Pennoweth (who were made out of 2 teams) were in attendance for the tournament and it was Pennoweth A who managed to maintain a 100% winning record to see them through to the Area Finals. Our results were as follows:
Treleigh 0 - 4 Pennoweth A
Treleigh 6 (Lewis A x2, Dean W x2, Sam F & OG) - 1 Pennoweth B
Player of the Tournament: Lewis A - Worked tirelessly throughout and was involved in most of the attacking play.
Team: Holly T, Dean W, Tecca F, Lewis A, Sam G, Lois A, Katie P, Sam F, Tegan M.
Big well done to all those involved, especially considering that it was our first competitive Hockey fixture let alone tournament! Good luck to Pennoweth who will now represent Redruth in the Area Finals.
YEAR 3/4 GIRLS FOOTBALL FIXTURE
Treleigh's Year 3/4 girls football team were in action on Thursday 21st April as we hosted Trevithick Academy in a friendly fixture. This was the first time Treleigh had ever fielded a girls football team and due to a few absences we nearly were unable to raise a side. Bearing in mind that this was probably the first time the girls had played alongside each other, both sets of teams displayed brilliant efforts and can be very proud of their performances.
Ellie M opened the scoring for Treleigh as her darting run through the middle left her through on goal to score. After a few chances at both ends in the second half, it was Sienna I who doubled Treleigh's lead with a neat finish into the bottom left corner. As the game came to a close, Kiya W did well in goal when called upon whilst Abi R put in a solid performance at the back. The girls seem to really enjoy themselves throughout and it looks like the future for girls football is shining bright at Treleigh!
Team: Kiya W, Abi R, Ellie M, Mali W, Sienna I
SPORTS LEADERS - UPDATE
Our Sports Leaders have been very busy this term helping our KS1 pupils to engage in lots of sports activities. From Monday - Thursday they share the responsibility of being 'Playtime Leaders' during break and lunchtimes, and it has proven to be a very rewarding experience for both our leaders and pupils. On Friday's they have been helping out in the Year 1/2 Football Club during lunchtime, where they are required to organise teams, officiate games and make sure everyone is having fun!
All these hours contribute to their leadership experience and will determine which level they finish the Sports Leaders Programme (bronze, silver or gold). With the Summer Term fast approaching, our Sports Leaders will be required to help organise some of our upcoming events e.g. sports day (best day of the year!)
Take a look at some of Sports Leaders in action by clicking on the images below!
YEAR 3/4 FOOTBALL FIXTURE vs ROSEMELLIN (17/03/16)
Our Year 3/4 football team played their first game of the year on Thursday as they hosted Rosemellin in a friendly. In fantastic playing conditions and with the crowd building it was all set for a cracking game of football, and both sets of teams did not disappoint. From the onset it was clear both teams wanted to attack and did so dangerously, however it was Rosemellin who managed to break the deadlock. An almost instant response from Treleigh brought the scores back level when William H found enough space in the box to cooly slot his shot past the goalkeeper.
After the interval, it was once again end to end stuff with William H, Daniel C and Ethan A all looking to break forward at every opportunity for Treleigh. With a few chances at both ends being squandered, Rosemellin managed to capitalise on a defensive mistake to restore their lead. It was now Treleigh on the front foot in attempt to get something out the game and with only a minute or so remaining they managed to win a corner after some good work on the left. From the resulting corner, William H was found unmarked on the edge of the box and sent in a dangerous cross/shot which was handled by a Rosemellin player. A penalty was awarded to Treleigh and William H bravely stepped up and calmly finished into the bottom corner. The game finished 2-2 and both teams can come away feeling proud as they produced an exciting game of football.
Man of the Match: William H - outstanding throughout, scoring both Treleigh goals and looked a constant threat going forward.
Team: Daniel C, Jack A, Alfie L (C), Ben M, William H, Jack T, Tylor S, Ethan A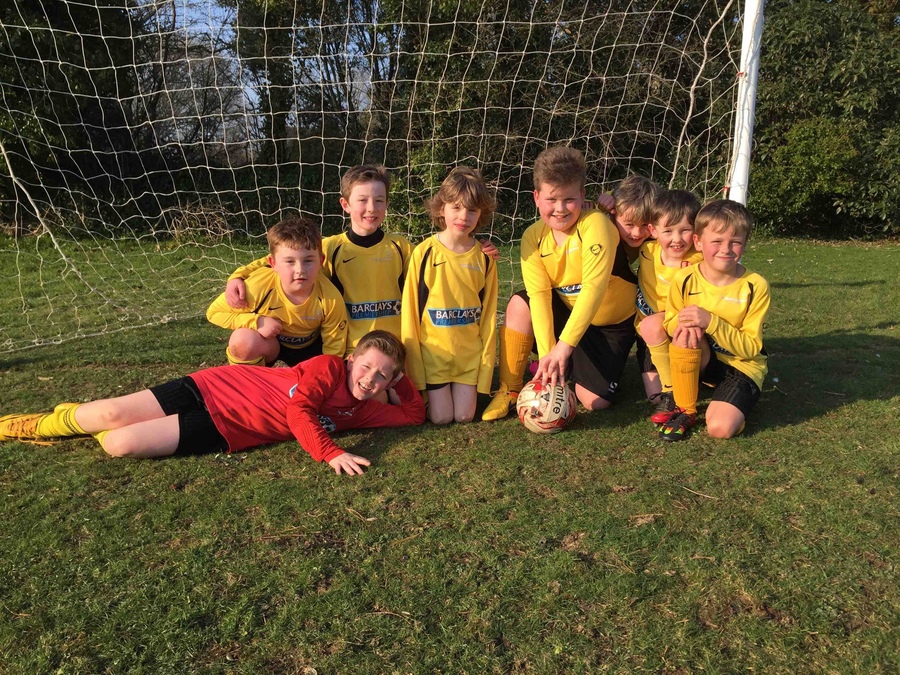 CHAMPIONS!
On Wednesday 9th March, Treleigh competed in the local football tournament at Redruth School to see which team would represent the area at Penryn in the area finals. Due to heavy winds, the decision was made by the organisers to hold a 5-aside indoor event. The lads adapted very quickly to the change in rules and didn't take long to start their free-flowing football. With short, yet quickly paced games of 3 minutes per half, they were under pressure to break down defences yet remained patient working particularly well as a team.
With only two other teams in attendance, I am pleased to say that they won the tournament with a 100% winning record and a maximum 12 points. Here were the results:
Treleigh 2(Dean W, Lewis A) V 1 Lanner
Treleigh 3 ( Fletcher A, Dean W, Lewis A) V 1 Pennoweth
Treleigh 4(Harry L x2, Dean W, Fletcher A) V 0 Lanner
Treleigh 2 ( Dean W x2) V 0 Pennoweth
Player of the tournament: Joint award between Dean W and Lewis A - both attacked and defended tirelessly throughout.
Team: Callum M, Lewis A, Sam F, Kane G, Fletcher A, Dean W (C), Lewis A, Harry L
Well done to all involved and good luck in the area finals to be held at Penryn College on Wednesday 27th April.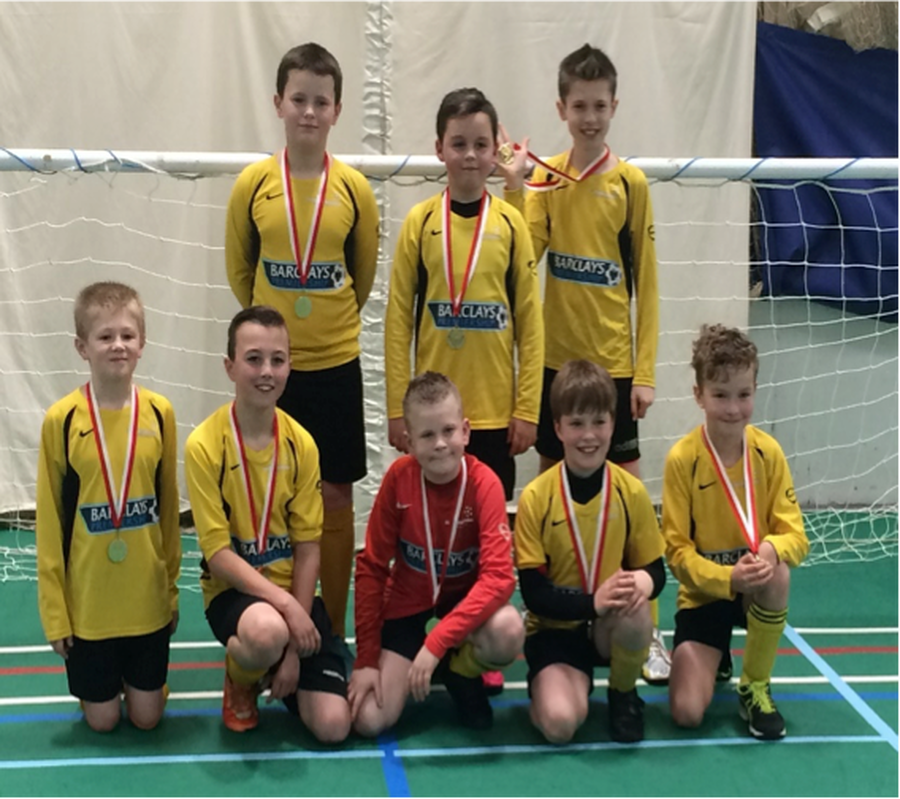 CROSS COUNTRY AREA FINALS
Treleigh's Cross Country team had a brilliant experience at the Area Finals at Pool Academy on Monday 7th March. With more than 400 pupils from primary schools across West Cornwall (who had all qualified from their respected primary school cluster competitions last month), it was quite a daunting and different experience for the Treleigh children! We had runners in every race bar one, and each runner was outstanding. Most races comprised of more than 60 runners, which made competing for the top spots very difficult.
All our runners placed mid table, and despite not qualifying for the county finals, it was certainly a fantastic and unforgettable experience for all of them. A big thank you must be mentioned to the parents and staff who came to support and cheer on our runners. A huge well done to the cross country runners that competed for Treleigh: Dean W, Alycia B, Sam F, Ethan A, Jack T, Daniel C and Jessica C. And finally, we would also like to thank Mr Hanley for his time and constant support during the event.
CROSS COUNTRY SUCCESS!
On Wednesday 10th February, 12 of our pupils were selected to represent Treleigh in the annual Area Cross Country event held at Redruth School. In tough and boggy conditions our runners were up against stiff competition from other local primary schools and all performed excellently, with 7 of them qualifying for the Area Finals! This is now the third area finals Treleigh have qualified for this year! (Gymnastics and Swimming previously). A huge congratulations must go to all pupils who ran on the day for their fantastic efforts with a special mention to Ethan, Jack, Sam, Alycia, Dean, Jessica and Daniel who all qualified.
We would like to thank Mr Hanley for his consistent time and effort throughout cross country club, and for his support on the day.
Squad: Dean W, Sam G, Megan L, Alycia B, Callum M, Harry L, Sam F, Jacob J, Ethan A, Jack T, Jessica C & Daniel C
KS1 & KS2 GYMNASTICS
This term, all classes in both our key stage 1 and 2 tried their hand at Gymnastics. Every week they focused on a different topic such as balancing, shapes, travelling and sequences to name a few. Towards the end of the term, our pupils were able to display what they have learnt and use the Gymnastics apparatus in a variety of methods. KS1 pupils were lucky enough to have a go at Mr Nixon's mini 'Ninja Warrior Challenge' whilst KS2 children practiced combinations and routines using different pieces of equipment.
Click on the images below and have a look at our pupils in action!
FOOTBALL FIXTURE vs ST DAY (04/02/16)
Treleigh recorded their first league win of the season with a convincing 4-0 win over local opposition St Day. In wet conditions, it seemed that the home side had a point to prove, displaying an excellent attacking performance. After a number of opportunities to open the scoring, it was Dean Wills who managed to break the deadlock despite St Day's best efforts in defence. Treleigh looked a constant threat every time they went forward and it was Dean again who doubled the home sides lead, this time with powerful strike from distance. Just before half-time, Dean completed his hat-trick after some tricky work on the left, he cut inside and picked out the far corner with a low drive.
In the second half it was more of the same from Treleigh as they piled on the pressure once again. However, St Day's defence and goalkeeper were determined to deny them getting past. The only goal in this half was calmly finished by Joseph Bowles as Dean turned provider this time around. Kane Gilbert and Tyler Entwistle remained solid at the back throughout, whilst Fletcher Allen and Sam Finch were impressive on the wings.
Man of the Match: Dean Wills - Captain fantastic, scored 3 and assisted the other. Looked dangerous every time he was in possession of the ball.
Team: Callum Morgan, Kane Gilbert, Tyler Entwistle, Fletcher Allen, Dean Wills, Sam Finch, Harry Lampard, Joseph Bowles & Hayden Tregidga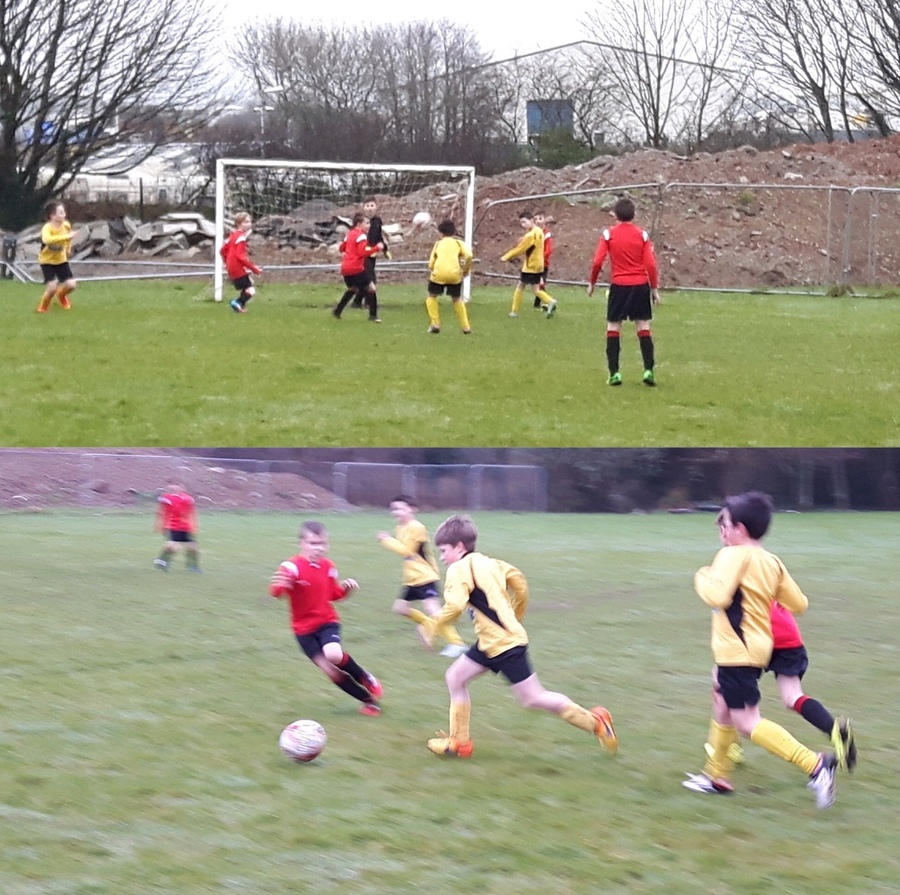 CROSS-COUNTRY
With the primary cross-country schools event re-scheduled for next Wednesday (10th Feb) at Redruth School, our mini runners made sure they were prepared with a wet and windy run through Treleigh industrial estate which included a muddy trail.
Although we extended our normal route, our pupils were on fantastic form with some of our front runners being able to keep up with Treleigh's very own experienced runner Mr Hanley! (Who actually ran to work that day!). These pupils will now look to impress at Redruth next Wednesday, where they will hopefully be able display the hard work they have been putting in during practice!
SWIMMING AREA FINAL
Following our recent swimming success, our Year 5 girls team went onto represent Redruth at the Swimming area finals last Friday (29/02/16). On the day, all children swam really well against stiff competition, behaved impeccably and were a real credit to the school. They should most certainly be proud of themselves for their fantastic efforts!
The result were as follows:
(2 heats per race)
Katie Plowright Breaststroke - 2nd in heat
Kerenza Dunstan Frontcrawl - 2nd in heat
Mali Wakely (Year 4 swimming as a Year 5) Backstroke - last in heat, but fabulous effort
Hannah Kemp (Year 4 swimming as Year 5) Butterfly - last in heat, but such a fantastic effort, never gave up!
Relay 5th in heat.
A huge thank you must go to Miss Symons for taking the pupils and for her support on the day!
GYMNASTICS AREA FINAL
After Treleigh's recent success in Gymnastics, two of our pupils qualified to compete at the Gymnastics Area Final at Penryn Gymnastics Centre. On Friday 22nd January, Martine and Sophie (both Year 6) represented the Redruth area in the individual schools group.
The Vault event was first up for the girls where they both displayed great technique and control on their landings. Lots of body strength and balance was then required as the Body Management event was next. They finished proceedings with a well practiced floor routine.
Although our gymnasts did not place in a medal winning position, they should be very proud of their efforts! Both Martine and Sophie performed excellently throughout the day and displayed great attitudes, even making a lasting impression on the Penryn College Sports Leaders who assisted on the day!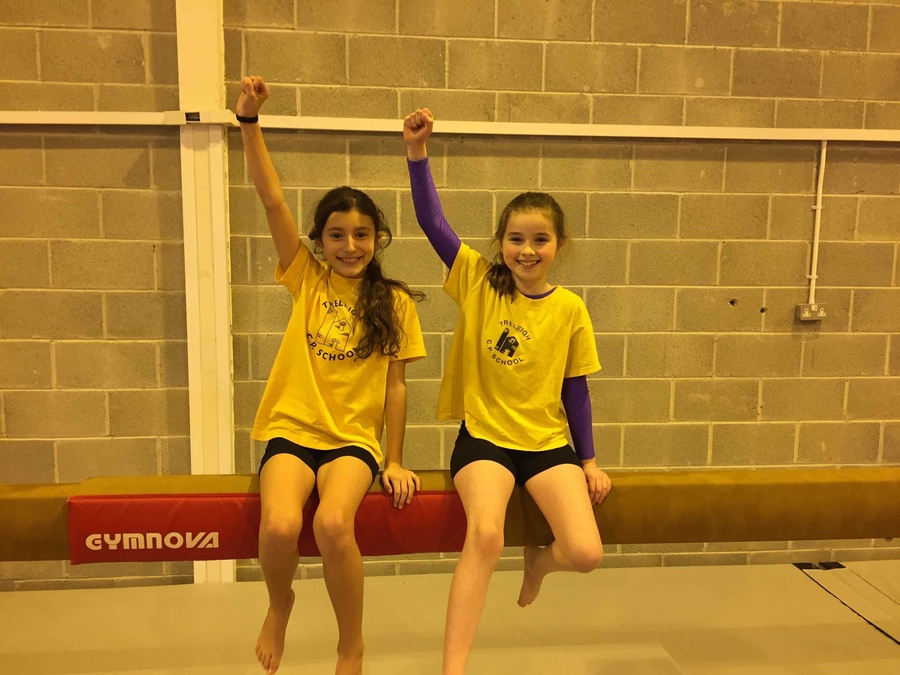 SPORTS LEADERS 2016
Eight of our Year 5 pupils have been chosen as our new Treleigh School Junior Sports Leaders. Due to high interest from pupils, it was a very hard decision to whittle it down to just eight! As sports leaders the chosen pupils will have certain roles and responsibilities around the school such as assisting PE Lessons and clubs in KS1 (e.g. lunchtime and playground). They will also learn about the qualities that make a good sports leader and how they can progress forward with these skills.
For the last couple of weeks our sports leaders have focused on Participants and Area, which are the first two parts of PACE (Participants, Area, Communication and Equipment). These are four important areas that Sports Leaders will learn week by week.
On Monday 1st of February, our sports leaders will now become 'playground leaders' during break and lunchtime. The leaders will work in pairs and have all been given a designated day each.
Sports Leaders: Sam Finch, Harry Lampard, Kane Gilbert, Callum Morgan, Charley Cooper, Lois Ackers, Katie Plowright, Kerenza Dunstan
CROSS-COUNTRY CLUB 2015/16
This week (28/01/16) our keen runners made the most out the field and did a short session on interval training. They were split into groups of 4 and shared periods of high intensity running and resting as a group. This type of training is one employed by runners to help improve aerobic capacity and enable them to exercise for longer and at more intense levels. Our pupils were certainly put through their paces and It was great to see the effort put in.
Take a look at our runners in action below!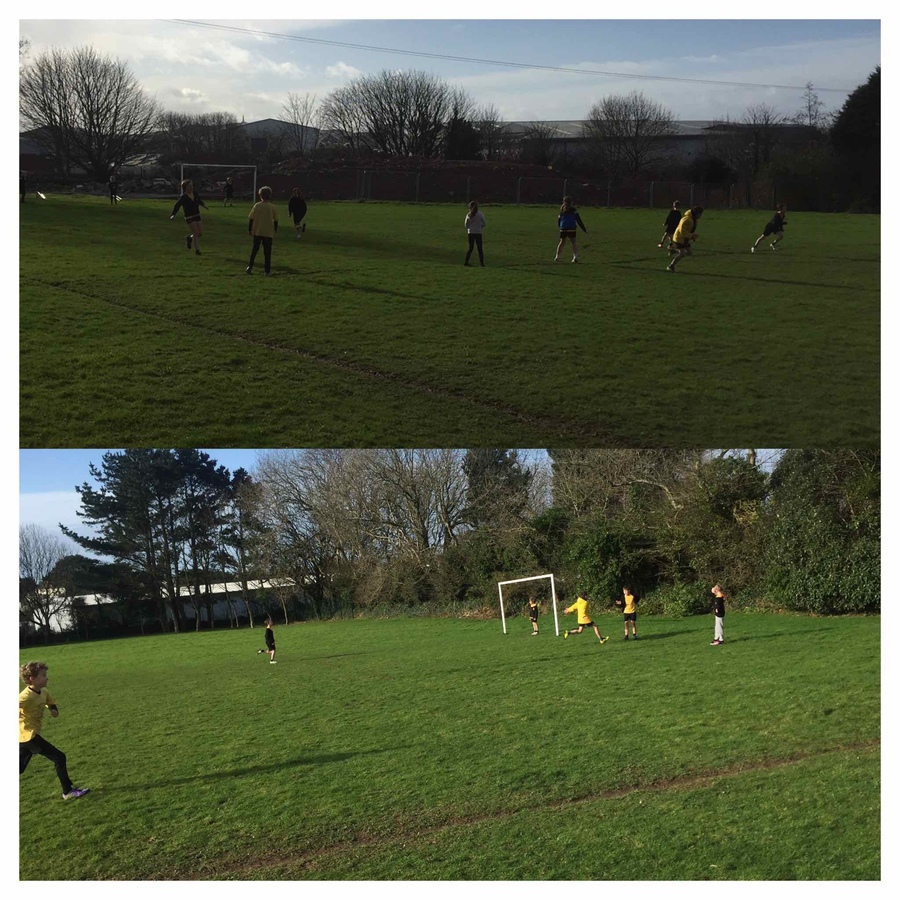 On Thursday 14th January, our cross country club was back in action for the first time since the Christmas break! The pupils were put through their paces with a run through Treleigh Industrial Estate and a muddy trail on their way back up to the school. Images are below!
FESTIVE PE LESSON
This week our Year 5 Class (Wheal Plenty) took part in a Christmas themed PE Lesson! Within the lesson they had to work cooperatively as a team in order to create an object related to Christmas out of an array of PE equipment.
Take a look at some of the festive creations our pupils came up with in the images below!
HANDBALL KS2 VIDEO

This term, all of our key stage 2 classes have been developing and progressing their Handball skills. As well as learning about the game, pupils were able to focus on different areas such as passing, movement, shooting and gameplay each week.
Take a look at our video below with clips from our Handball lessons!
MR MITCHELL'S OUTDOOR LEARNING CLUB
Wheal Fortune (Year 6) have been going all Ray Mears this autumn term on Wednesdays after school. They have lit fires, tied knots and, with much trepidation from Mr Mitchell, whittled wood learning knife and sawing skills. Here are a few images of first class survival!
FANTASTIC GYMNASTS: TRELEIGH BECOME AREA CHAMPIONS!
2015 is quickly becoming one of the most successful sporting years at Treleigh, with yet another success story from our year 5 and 6 gymnasts. Competing this week at Redruth School, the squad had to perform a complex routine in front of a panel of judges. After preparing well at home (many in their front room!), it wasn't long until their efforts began to pay off. Showing great strength, agility and balance, the points quickly began to mount up and, with the support and encouragement of their friends, they became eventual winners!
We would like to thank Mrs Bannon from Redruth School for input, as well as Miss Goodman and Miss Symons for
supporting the squad on the day. Here were the final results:
1st Treleigh (696 points)
2nd Stithians (671 points)
3rd Lanner (669 points)
4th Trewirgie (656 points)
5th St. Day (601 points)
Extra congratulations go to Sophie and Martine for coming joint 2nd overall!
Squad: Ashleigh B, Sophie A, Martine B, Lewis A, Dean W, Holly T, Holly L, Madison J, Megan M, Caitlan W (missing from photo).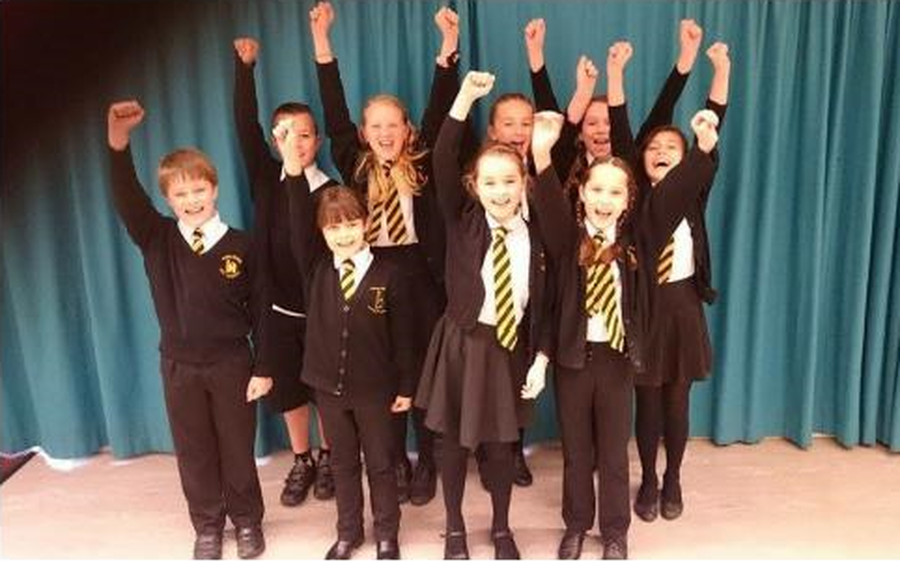 Football Club
Due to the horrible weather this week, both KS1 and KS2 football clubs had to be done indoors. Despite the lack of space to be able to play football, both ages groups had a go at Crab Football!
Here are some pictures of Football Club playing Crab Football in our new hall located in The Barn.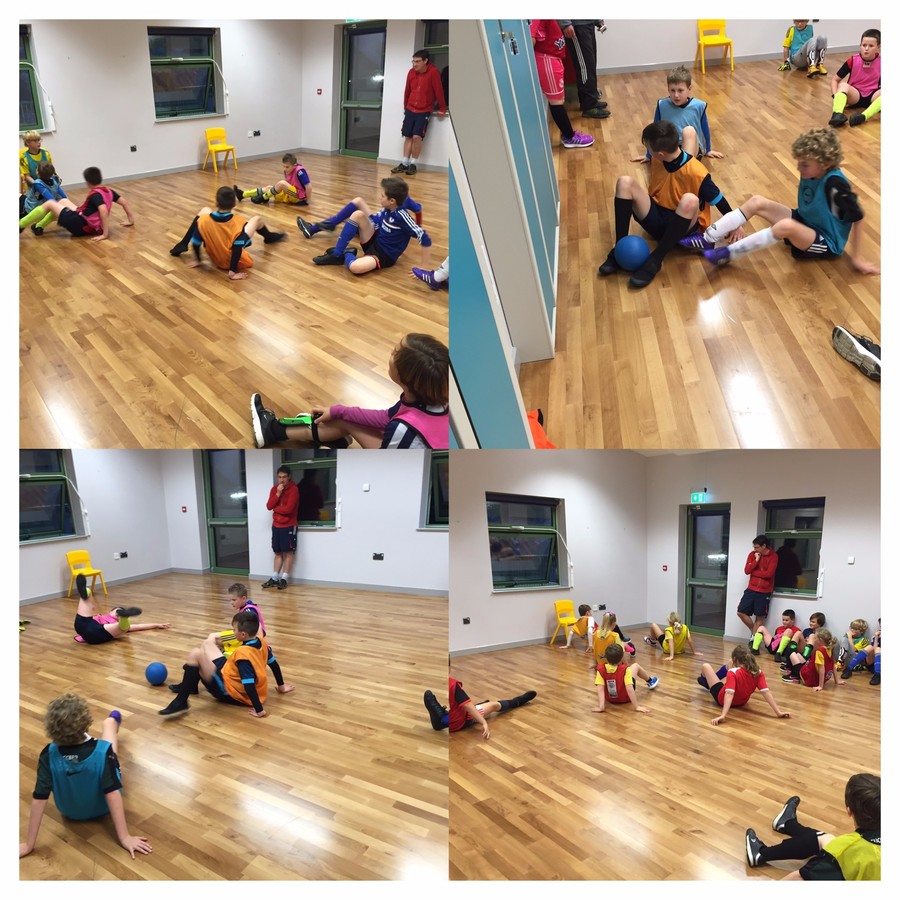 Cross-Country Club 2015/16
We are currently 8 weeks into our cross-country training and there has been plenty of progress already! Each week, one pupil will track their run on Strava so that we can record their distance, time and average pace as well as their progress.
Take a look at the images below to see how our pupils have been getting on!
This week we took our mini runners out onto the field to work on SPEED training! They focused on how they could conserve their energy uphill and then increase there speed when going down. We then finished the session appropriately by stretching out our muscles.
Take a look at the slideshow below to see how they got on.
Football Fixture vs Trewirgie (26/11/15)
On Thursday our Football Team faced a strong Trewirgie side. Treleigh can come away from this game with their heads held high as each and every player put it in a magnificent effort. From the off it was clear Trewirgie were lively going forward, but if it wasn't the defensive heroics of Lewis Angove, Alfie Lampard and Callum Morgan in goal, it could have been more. Dean Wills did manage to break forward dangerously on a few occasions, but during the first half Treleigh rarely tested the Trewirgie goalkeeper.
In the second half, Treleigh created much more opportunities through Sam Finch, Harry Lampard and Fletcher Allen but were unable to find the back of the net. Trewirgie scored one in each half, with the final score ending 2-0. Despite the result, an excellent effort by Treleigh who left the field exhausted.
Man of the Match: Callum Morgan - A very brave performance as goalkeeper, pulling off some great saves and keeping Treleigh in the game.
Team: Callum Morgan, Tyler Entwistle, Alfie Lampard, Lewis Angove, Dean Wills, Fletcher Allen, Sam Finch, Joseph Bowles and Harry Lampard.

Swimming Success!
This week our KS2 swimming squad competed in the annual swimming gala at Redruth School. In a highly competitive afternoon, there were a number of successes, as you can see below. A huge congratulations must go to Theo, Kerenza, Katie and Tecca for winning their races and to the year 5 girls who won their category and will represent Redruth at the area finals. However, a special mention must go to Kai, Matthew, Hannah and Megan for persevering with the Butterfly, showing great determination and never giving up and to Hayden, Mali and Hannah for competing in the age group above. Here are the results in full:
Breast Stroke

Back stroke

Front Crawl

Butterfly

Y5 girls

Katie P (1st)

Mali W (3rd)

Kerenza D (1st)

Hannah K (4th)

Y5 boys

Sam (2nd)

Hayden M (4th)

Jacob J (3rd)

Matthew (4th)

Y6 girls

Elyse B (4th)

Martine (4th)

Tecca F (1st)

Megan L (4th)

Y6 boys

Harry K (3rd)

Jamie K (2nd)

Theo P-F (1st)

Kai W (3rd)

Year 6 Boys Front Crawl Relay: Dean W, Kai W, Theo P-F, Harry K (2nd)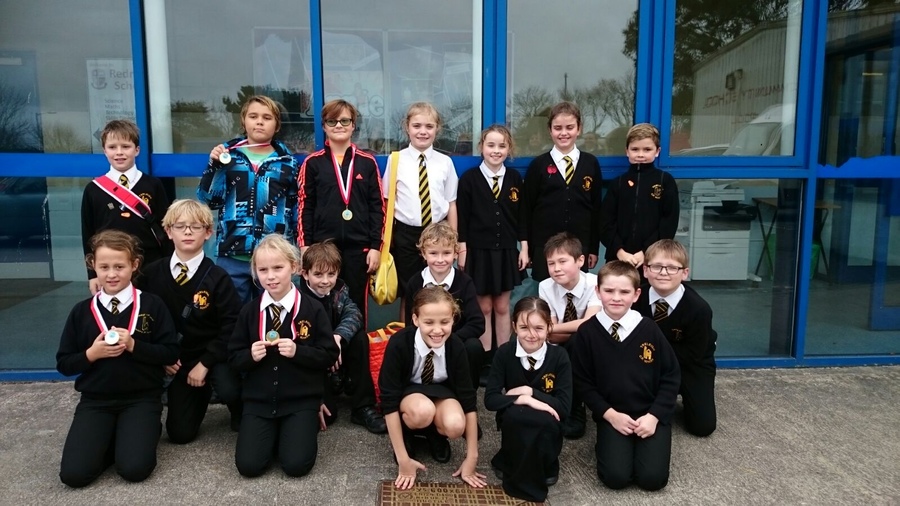 Hockey KS2
Last term, all key stage 2 classes have been learning and performing in Hockey during P.E, where they have focused on a variety of hockey related skills each week from handling and grip, to passing, receiving, shooting and how to attack space purposefully.
Pupils got the chance to display all these skills during games played within their final P.E session before the October half-term.
Click on the pictures below to take a look at some of our pupils performing in Hockey!
Year 5 & 6 Football v Pennoweth - Match Report
On Thursday (22/10/15), Treleigh got their football season underway with a home fixture against local school Pennoweth.
Treleigh looked the brighter of the two teams during the first half and they managed to get off the mark with Harry Lampard cooly finishing after some good work from Dean Wills. However, throughout the second half Pennoweth started to pile on the pressure and their persistence paid off when they equalised. Afterwards it seemed the visitors were determined to grab the winner and that they did with only a few minutes remaining.
Despite the score, some positive performances all round from the team with the pick of the bunch coming from Lewis Angove who displayed a brilliant defensive performance.
Team: Callum Morgan, Kane Gilbert, Lewis Angove, Dean Wills, Joseph Bowles, Bradley Curnow, Harry Lampard, Sam Finch, Hayden Tregidga, Tyler Entwistle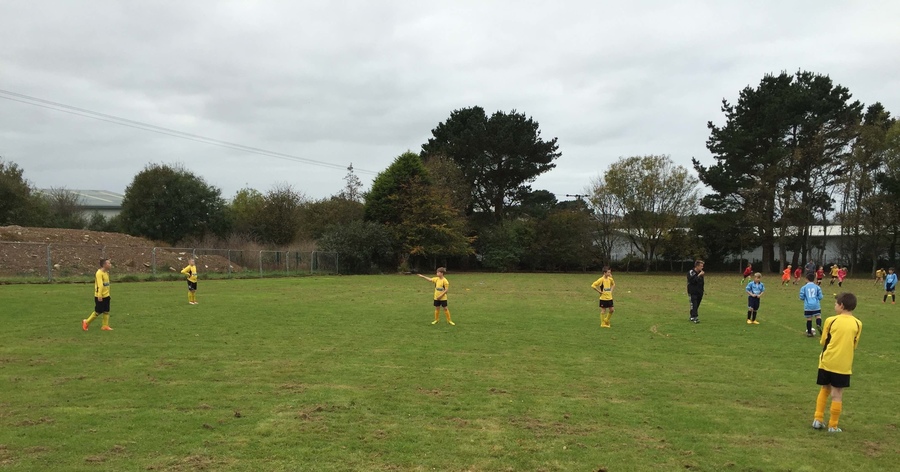 Year 6 Vs Staff Rounders Match (YEAR 6 FAREWELL)
Year 3/4/5 vs Year 6b Football Match
After school on Wednesday, we held an in-school football match between Year 3/4/5 and Year 6b. It was another good opportunity for those in Year 3,4 & 5 to impress and play together as a team again before next term, whilst provide a chance for the Year 6 B team to play one last competitive fixture for Treleigh before the end of the school year.
Overall, a very good game with some excellent teamwork on show and some good goals scored too. The scoreline ended up as Year 3/4/5 3-1 Year 6b.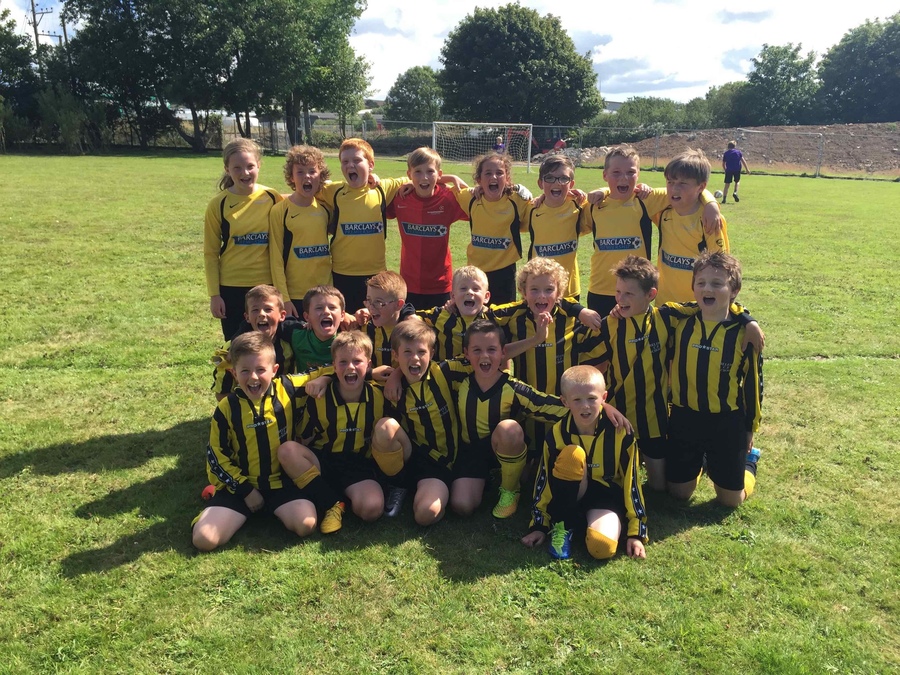 Tennis KS2
Now that Wimbledon is up and running, our KS2 classes have been able to show off their tennis skills during PE lessons. Recently, pupils have been working on skills such as agility, whilst focusing on their forehand and backhand techniques.
Take a look at some of our pictures from lessons! #WimbledonFever
Swimming Gala KS1
On Wednesday the 1st of July, ten lucky KS1 students had the chance to compete for Treleigh at Redruth School in a Swimming Gala. The children were mixed into 4 different teams with pupils from Lanner and St Day School where they competed in a series of events such as front crawl, back stroke and breast stroke with 1st, 2nd and 3rd place all up for grabs.
Afterwards, they were involved in fun relays where a variety of tasks had to be achieved. These included collecting letters to make a word, diving through hoops under water and using floats to collect their own chocolate bar (fair to say that this was the one they looked forward to the most!).
Well done to the ten pupils involved, they all did superbly well and a big thank you for the parents that helped out with transport. Finally, a special mention to Alisha Wild who came 3rd place in the front crawl event and to Hannah Cornish who came 2nd in the back stroke and 3rd in the breast stroke event, well done girls!!
Year 3 & 4 Football Match Report
After school on Wednesday (1/7/15) we hosted hosted St Day School in a friendly game. This was a great opportunity for some of our year 3 and 4 footballers to show off their ability individually and as a team.
During the 1st half both teams had good chances to go ahead however no team could break the deadlock before the half. Despite never playing in a team together before, Treleigh displayed some great understanding and worked fantastically as a team. Early in the 2nd half this teamwork proved to be significant, as good play from Sam Finch and Fletcher Allen led to a well taken goal from Harry Lampard. With only a few minutes left, Callum Morgan headed in from a dangerous corner taken by Fletcher Allen.
The final score was 2-0 however it could have been a different story if it wasn't for some brave goalkeeping from Kane Gilbert and Callum Morgan and some excellent defending throughout from Alfie Lampard. The boys did themselves and the school proud with a brilliant all round display! The future looks bright for Football at Treleigh!
Team: Callum Morgan, Kane Gilbert, Bradley Curnow, Kenzie Grigg, Sam Finch, Fletcher Allen, Alfie Lampard & Harry Lampard
Kit Car Club
After several months of hard work, sweat, biscuits and engineering, the Treleigh Tornados kit car was finally ready to race at Newquay Airport on the 17th June.
Mr Curnow, Mr Giddens and Mr Barber zapped us up the A30 to meet with over 60 other racing cars from all over the country in the 'Goblin Division'. An intense scrutineer process led to some frantic shuffling as the cars steering rod was re-adjusted and metal plates stiffened (nice bodge job;love it!). Mr Mitchell was seen running this way and that searching for tools and oil, eventually moaning that more of a managerial role, possibly whilst holding a coffee, would suit his skill set better...
The day consisted of six slalom runs, six drag race runs and one, long two mile dash. The team showed intensity and skill through the slalom with six clean runs during a day where two other cars were seen crashing into the barriers! By the halfway mark of the day the car's engine and drive belt were making strange music which didn't sound like the purring engine of Mr Hanley's Volvo A few faces began to turn from 'eye of the tiger' competitiveness to sheer worry as Evie left the starting grid for the long lap however after a few tense minutes, she rounded the last corner with good pace and powered across the line!
A brilliant day and fantastic driving from the Year 6 team! Thank you to everybody who helped along the way and we all look forward to next year.
Mr Mitchell
Football Area Final
On Tuesday the 16th of June our football team competed in the Schools Area Final at Penryn College following our local success. After a slow start in which we lost 1-0 in our first game to Mount Hawke, we quickly bounced back with a 3-0 win over St Meriadoc, with the pick of the goals coming from a Barcelona style like move involving Ben Murphy, Dean Wills and Oli Hanrahan, coolly finished off by Dylan Lee.
Dylan Lee was on the score sheet again in both our 1-1 draws against Parc Eglos and Archbishop Benson, one of which a wonderful solo effort. With another 1-1 draw, this time against Penryn, we didn't just have an own goal to be thankful for, as Tom Marshall and Tyler Meek displayed some composed defending, whilst Marco Rogers produced a goalkeeping master class throughout the day.
After lunch, it appeared we found our winning form, winning all three of our remaining games against Landewednack (4-0), St Mary's (3-1) and Pencoys (2-0) with Ben Murphy, Dean Wills, Oli Hanrahan and Dylan Lee all on the score sheet. Overall we achieved 15 points, finishing 4th on the day, however despite the final standings the players can be very proud of their performances! Some fantastic football displayed by all.
A huge thank you to the parents who helped out with transport and supported the boys throughout the day.

Team: Tyler Meek, Oli Hanrahan, Marco Rogers, Dylan Lee, Tom Marshall, Ben Murphy (capt) & Dean Wills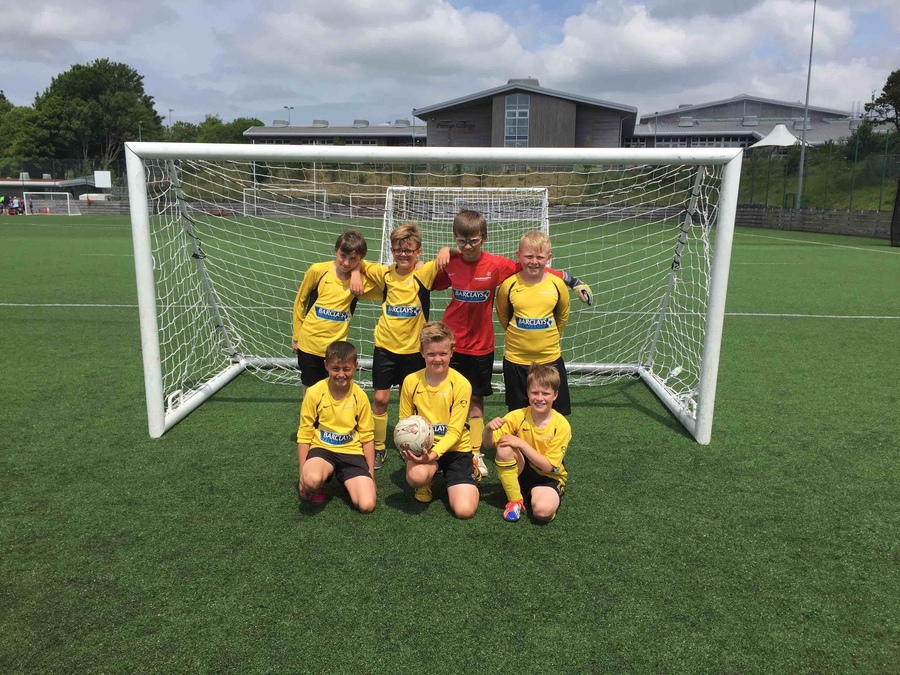 SPORTS DAY 2015
On Thursday the 21st of May, we held our annual sports day. The KS2 Sports Day took place in the morning with Gwithian (the Yellow team) retaining the winners title for the second year in succession! Even Rihanna Hanley made an appearance!!
After lunch, the Year 6 children helped to set up and run the KS1 Sports Day where they dealt with the challenge of supporting the 5-7 year olds well!

Check out our videos below of both KS1 & 2 from the day.
Athletics KS1
On Wednesday 20th of May, 10 pupils in KS1 got the chance to partake and compete in a variety of athletics events at Redruth School. These events consisted of sprints, long distance running, long jump, throwing, relays with batons and hurdles. The children did superbly well and displayed some excellent performances, the future for athletics at Treleigh certainly looks bright!
Check out our video below to see how the pupils got on!
Sailing Club
Here's our newly formed YR 5 and 6 Sailing Club!
Check out the children's first attempt at performing a tack turn (below).
New video now live! (right)
Multi-Skills KS1
Pupils in KS1 have been conquering Multi-Skills through a wide range of activities during PE lessons. Recently pupils have been focusing on:
Fundamentals & varieties of movements
Spatial Awareness
Hand-eye Co-ordination
Communication
Identifying Challenges
Agility & Footwork
Images below!
YouTube
We are pleased to announce our new YouTube channel specifically for sports at Treleigh is now live!
Make sure you check it out and subscribe for regular sports updates.
Channel: TreleighSchoolSports
Link: